Giancarlo Velarde
---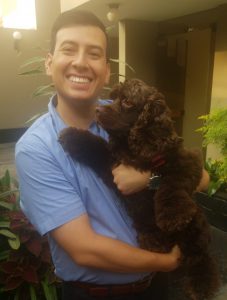 Giancarlo was born in Lima, Peru, but moved to the San Francisco Bay Area before he turned three. He was recognized as the valedictorian of his middle and high school classes and accepted a full scholarship to Stanford University. Graduating two quarters early, he earned his B.A. in Classics, with a concentration in ancient Greek and Latin in which he read authors such as Cicero, Homer, Sappho, and Socrates in their original Latin and ancient Greek languages.
After working for a big-box test prep company, Giancarlo began teaching as a private tutor in California's Napa Valley. In ten years, he has spent thousands of hours helping hundreds of students master the SAT, ACT, GRE, and GMAT.
In 2021, Giancarlo scored a 770 on the GMAT, a 99th percentile score, with a Q50/V45 split. He views the GMAT as a game to be played and a puzzle to be solved and is thrilled to teach others how to play the game better. Every student is unique, so every experience playing the game is as well. Test prep is always changing, and Giancarlo is a flexible teacher, ever-adapting to shifting circumstances. His past students have been admitted to a number of top-ranked American universities, including Stanford, Yale, Cornell, Northwestern, UC Berkeley, UCLA, and Duke.
Giancarlo has always been fascinated by language and formally studied linguistics as an undergrad. He knows English and Spanish as native languages; American Sign Language, Latin, and Ancient Greek as learned ones; and French, Italian, and German as academic ones. He is currently learning hangeul (한글) with the intention of studying Korean next. While at Stanford, Giancarlo co-founded and served as editor-in-chief of Aisthesis: the Undergraduate Journal.
When not thinking about the GMAT, Giancarlo likes to read, try new foods, watch basketball (go Warriors!), and spend time with his wife, two young sons, and cocker spaniel.
---