Javier Gomez
---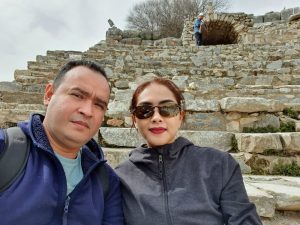 Javier was born in Mexico but raised in NYC. His academic success beyond high school is an AA in Liberal Arts from Bard College and subsequently continued his studies in Social Anthropology with an emphasis on language and identity.
Javier has always loved languages. In 2005 he discovered American Sign Language and passionately pursued his interest.  He learned it and subsequently started interpreting. He loved the fact that the culture and community were so embracing and caring. He also has basic knowledge of German.
In Mexico, he stumbled upon English teaching and pursued it passionately. He has attained several international certifications such as Cambridge TKT,  FCE, and CAE. In 2013, he ventured to Toronto to become a certified English teacher at the International Language Academy of Canada. Back in Mexico, he completed a BA in English Language Teaching. He then discovered the GRE and GMAT and was immediately pulled by the challenge.   He loves helping students achieve their goals and be part of their learning.
His passions are traveling and trying new food in the company of his wife (and they love to travel for food). He believes that culture is best experienced through food shared with new friends and family.  He has visited several countries and been to 4 continents, but he still has a big bucket list. His plan is to set foot in all habitable continents.
---