A lot of my students have been asking me where they can find the right whiteboard and marker for the GMAT Online. Before giving you a recommendation, make sure you read all the requirements posted on the official website: https://www.mba.com/exams/gmat-online/prepare-for-your-exam/whiteboard-options:
Whiteboard Requirements:
1 erasable whiteboard no larger than 12 inches x 20 inches (30 centimetres x 50 centimetres)
Up to 2 dry erase markers
1 dry erase whiteboard eraser
The following items are NOT allowed:
Whiteboards with grids or other markings
Whiteboards with background colors
Paper
Pen / Pencil
Permanent Marker
Tissues, Paper Towels, Napkins
Whiteboard Spray
Paper in a clear slide
Boogie Boards
Chalkboards
Writing Tablets
Now, let's get down to business…
Choosing The Right-Size Whiteboard
If you are in Peru, you can purchase whiteboards online, in some supermarkets, street markets, or at most book stores. Most of my students who took the GMAT Online purchased this cheap (but good-enough quality) whiteboard from Tai Loy (S/.12.10 or around US$3):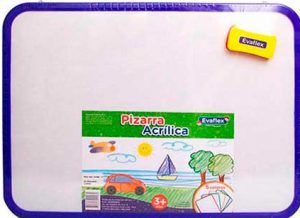 The best part: it comes in many different colors (Yeahhh!!!). Remember that whatever whiteboard you choose, it must fit on your desktop and feel comfortable. I have used the one above, and it worked really well for me. Here's a video with more details:
You can find these whiteboards here: https://www.tailoy.com.pe/pizarra-acrilica-042-x-032-cm-evaflex-pt-ev00444-6990.html
Choosing The Right-Size Markers
I have tried different markers. Most of them are bulky and hard to handle during the test. Nevertheless, there is a particular brand of markers that has the right size and doesn't smell too strong: Expo Ultra Fine Tip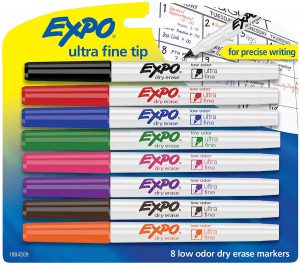 These erasable markers were made to write on whiteboards or plastic, and they look just like any regular marker. The problem is that I haven't been able to find them in Peru. I had to order mine from Amazon (yeah, they are expensive considering the shipping costs), but they were worth every penny. If you have friends or family in the US who are coming to Peru any time soon, tell them to get you these markers. You won't be disappointed.
Practice Makes Perfect
Finally, whatever whiteboard or marker you decide to purchase, just make sure you take enough exam simulations using them. Remember, you must master the art of taking the GMAT. It's not easy, but it's a lot of fun.
Enjoy your practice!
Mariano
P.S.: If you have any question or doubt, please don't hesitate to send me an email to mariano@gmatdudes.com. Cheers!