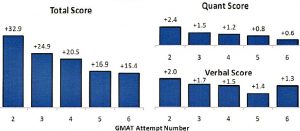 What happens if you do not achieve your potential in your first GMAT exam? Should you take it again? We believe you should, and we will support our claim with some interesting research results.
The following analysis is based on 68,750 second time, 13,582 third time, 3,262 fourth time, 936 fifth time, 291 sixth time test takers from the United States in the testing years 2007-2010.

Key Points:
Repeaters are self-selecting. Those satisfied with their score do not take the test again.
Since 2007, 18% of GMAT examinees have taken the test 2 or more times.
55% of the people that sit for the GMAT a second time show gains of 30+ points.
Who Benefits the Most?
Individuals that did not finish the examination in their first attempt.
Individuals capable of higher Verbal Section scores.
Remember:
Pacing is critical. Learn to allow approximately 2 minutes per question.
Scoring is based on all questions.
Computer adaptive testing is self-correcting. Good guesses and mistakes have only a small effect on your score.